Start
Marimba
Musik
Interviews
Termine
Links
Kontakt
Interview mit Oscar Nandayapa von der mexikanischen Gruppe Marimba Nandayapa
geführt von Evgeniya Kavaldzhieva
(Siehe auch: Deutsche Übersetzung)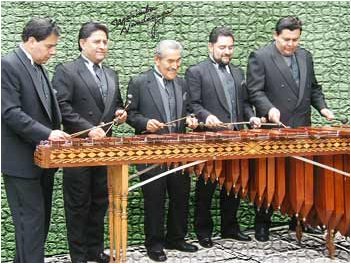 What place has the Marimba in the musical life in Mexico? I have heard from friends from Mexico that Marimba is so popular, especially in Chiapas and you can hear Marimba everywhere and anytime, even on the streets around the clock.

In México the most important Marimba Zone is Southern, specially in Chiapas, Oaxaca and Tabasco, some cities of Veracruz (specially Port of Veracruz). In our case we are from Chiapas and in Tuxtla Gutiérrez (the Capital of State) has some place called PARQUE DE LA MARIMBA (Marimba Park), in that place you can listen 2 or 3 Marimba Bands daily at night from 7 to 9, you can dance pop music and traditional songs, all sponsored by local government.
In the cathedral of Tuxtla you can listen the most famous song called LAS CHIAPANECAS. That song is programmed in the Bell Cathedral system and Bell tower songs every hour (this is not marimba, but it is a traditional song representative of Chiapas State. That Bell system was constructed by important constructors from Germany (thatís what I know, I hope thatís the truth).

Nandayapa's Family is the most famous name in Marimba music in Mexico. Please tell us about your rich artistic activity which goes through many generations.

Well, maybe it is not correct for me to talk about myself or my family, but I think that is the truth. My grandfather was one of the most important Wind Band Conductors in Chiapas and Marimba Constructor. He taught his son Alejandrino (my fatherís brother, the oldest)and then he was (Alejandrino) the best Marimba Constructor in Chiapas, and now my cousins are, and they are exporting to Holland, Germany and other European countries.

Please tell us something more about the Mexican Marimba, as it looks and sounds different from the classical Marimba. (The first time I have heard Mexican Marimba was in 2001, in Belgium and I was charmed.) What sort of mallets people use, how many people play together, do you play only traditional Mexican music on it, how does one learn to play Mexican Marimba, in an University program or private?

The principal characteristic of Marimba Chiapaneca's sound is because over the acoustic boxes it has a little hole and in there we use and put a little piece of skin. That skin comes from the pork intestine and we use some special wax like an adhesive; the vibration produces a very special sound.
In some parts, like Guatemala, they use a similar skin but of a wild boar and in Africa Black Spider is used.
The special Chiapan Style to play marimba is in a group or ensemble. Mostly 4 or 5 musicians play on one marimba. A characteristic in Chiapas is that almost all groups use 2 or 3 Marimbas (instruments). On each 1, 2, 3 or 4 players can play, it depends on the marimba size. Every marimba player can play with 2, 3 or 4 mallets. When the ensemble is too big there can be some accompaniments like Electric Bass, Drumset, Piano, Trumpets and more (like a big Band, almost 16 or 20 musicians - but those groups are for popular music, not for Traditional Folk music).

What are the most recent projects, plans and concerts of Nandayapa's Group?

Well, to begin we'll have our 6th tour in Denmark from September 3rd to Sep. 25th. Then in México we have a very special project... We'll play in a big ensemble with 35 marimba players, playing together with my father arrangements of Mexican Traditional Music and some Concert Mexican Music. In that ensemble maybe we'll have a collaboration with one of the most important schools and universities of the Mexican State. And with the most important vocale a capella ensemble called "Voz en Punto Ensemble". That group doesn't use any instruments and uses only their voices. We will play together for the 2nd time.
Then over the end of this year we could play with the Symphony Orchestra of the National Polytechnic Institute, one of the most important Schools and Universities of the Mexican State.

Thank you very much for the interview!



Besucher: