Start
Marimba
Musik
Interviews
Termine
Links
Kontakt
geführt von Evgeniya Kavaldzhieva
(Siehe auch: Deutsche Übersetzung)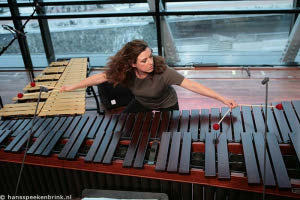 Nowadays you have the fame of a multi-functional marimba player. If we look back, we can see that you have been studying with Dobri Paliev, Robert van Sice, Wim Vos, Steven Schick, James Wood. Do you think that your work with so many different artists has contributed to your versatile activity today?

During my main studies as a Conservatory student I learned with Prof. Dobri Paliev, Robert van Sice and Wim Vos. However, I have been very lucky to be regularly in touch and working with James Wood and Steve Schick - both in courses and while they were visiting as regular guest teachers at the Rotterdam Conservatory, as well as twice during the Darmstadt Ferienkurse.
Indeed all of these teachers have meant a lot to me both as a student and person and have influenced my musical and artistic choices very strongly.
However, I believe that part of the development of a young student depends also on the class he/she is in, the contact with other instrumentalists, colleagues and composers and the general creative environment of the school and place. Having the chance to be part of a major international class in Rotterdam and then continue at the Royal Conservatory of The Hague has been a really important and interesting process for me.

You are a musician who likes to experiment. Your first CD "Knock on Wood" is based on your project "marimba-extended". Could you tell us what exactly "marimba-extended" means?

Well: "marimba-extended" is a term I adopted from the renown Dutch composer Louis Andriessen: Several years ago I assisted him while composing his solo piece "Woodpecker" for the International TROMP percussion competition (www.trompinternational.nl) here in the Netherlands. In that piece he uses a set of tuned temple and wood blocks and he was very specific that they need to function as "extension" of the marimba keyboard. At the same period I was preparing a new solo program where I also had pieces for marimba in combination with tuned thai gongs, another piece with prerecorded marimba sound track, marimba and entire percussion set with extra instruments played with pedals ... and like this the whole conception got a more clear shape.
I love the marimba solo and the repertoire we all play, but do like to experiment further by commissioning new and unusual pieces. The result is a very intense collaboration with the composers and sometimes that brings me into quite challenging situations that I need to solve around the marimba. Nevertheless - it is really fun and the possibilities are endless.

Four women, four instruments, four nationalities - that is ELECTRA - your group. It sounds very exiting. Please, tell us more about it.

ELECTRA "happened" in The Hague Conservatory. I was asked to accompany a recorder player for her final exam and as the chemistry worked out so well - out of this collaboration grew the idea for the ensemble: recorder, mallets/percussion, voice and violin. We developed over the years a highly virtuoso ensemble with unusual staging, mixing theater elements, film & video, playing amplified, using additional instruments such as electric violin and keyboards, electronics ... in a way - a band - but then with all new music compositions, specially written and designed for us. Our first large scale project was "The New Math's" with music by Louis Andriessen and a film by the New York filmmaker Hal Hartley. Ever since we perform in major festivals and venues in the USA, Canada and Europe.
What I love about this group is the combination of four soloists with completely different musical backgrounds, personalities and instruments, each of us brining in our own culture, yet all of us living and working in the Netherlands. In a way this group is partly a result of that: here in Holland the ensemble culture is very strongly developed, so next to our solo activities we all play in leading ensembles and participate in many different projects. Working with four women (one could imagine) is at times pretty challenging but that makes it even more special and powerful and we have a great time together. That results in our new CD/DVD "ELECTRA: Able to be" that came out in December last year on Attacca label. (www.electranewmusic.com)

You play Duo with Rutger van Otterloo - saxophones. Is there enough literature for such an ensemble or do you work specially with composers who write for your duo?

There is more and more music written for this combination. In our case however, we do both: commissioning composers who write specially for us, but also improvising and making our own arrangements. We like to combine our different cultures and musical backgrounds (jazz/improvised/experimental vs. classical contemporary music). This in a way creates a new form of music making with the freedom of improvisation and the demands of the strictly composed modern pieces. We develop our repertoire in close collaboration with prominent composers as well as jazz/rock musicians and in such a way follow the modern tendency to cross the borders between different styles, genres and cultures. The result is modern contemporary music, heavily influenced by jazz, rock and world music. That also means that we perform both in classical/modern music podias as well as clubs, large scale festivals and alternative venues.
Again a CD announcement here: we just recorded our first CD in a great new studio in Osnabrück - Fattoria Musica - and we expect to bring it out within a couple of months.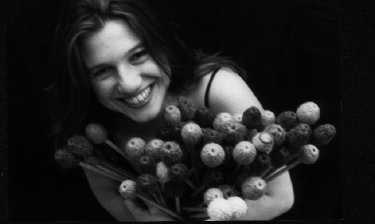 You are not limited to a soloist and chamber music player. The public can see you taking part in theatre productions both as a musician and an actor. What is the feeling to be a multifunctional artist?

Above all it is a challenging but amazing experience. Personally I love the stage and movement and I think that audiences experience a live percussion performance both by listening and watching: isn't it amazing to see a single performer "managing" an enormous battery of different objects, making music and letting them all sound as one instrument?
Theater directors and choreographers love that and often choose to incorporate live percussion music performances in their productions. Indeed, for our musicians part one needs to be open and flexible. This is also an artistic choice as often the music needs to be combined in such a way that it functions the best within the whole piece. Sometimes that requires compromises from both sides, that's why now I prefer to participate in projects starting from scratch - simultaneously with composition and direction and in this way be involved from the beginning in the musical and artistic choices.

For the last couple of years you have been working with the Filmmuseum Amsterdam. What is interesting about that project?

The most interesting I find is the combination of old and new: The Filmmuseum in Amsterdam is a very interesting place: in their archives you can find all about the beginning and history of film-making. What they try to do as well is to promote those archives by presenting old silent films with live music (as it used to be done before), and often they choose contemporary music.
About 6 years ago they started a new festival: "Filmmuseum Bienalle" where they present new productions, shows, concerts, dance performances using their archives. I have been invited to play music to several of their films and one of the most recent projects was the major production "Sonic Lens": - a theatrical event using unidentified fragments from the "Bits & Pieces" collection of the museum as basis, in which the images are transformed in real time from the music of Frances-Marie Uitti (cello) and myself, using live electronics while interacting also with a VJ.

Doing a lot of master-classes, what would be your advice for the young musicians?

As you might have noticed from the above, I am indeed engaged with lots of different musical and performing activities around the marimba and percussion instruments. This results in a very intense and varied, but challenging life style. To go with that full time you need to really love your profession, the music you choose to play and believe truly in the message you want to bring across as an artist and musician.
Advice? follow your instinct and be interested in anything that comes your way musically and artistically: listen to recordings and concerts of any genre; go to museum exhibitions and theatre premieres, check the latest art forms, films and dance productions coming out: be there, feel, listen, experience and have fun. Design your own musical world and create your own line in it. And of course: do take time, lots of time to spend with your instrument; choose a good school and use every second in it to gather knowledge and ideas, to make mistakes and experiment. Learn and trust the recommendations of your coaches and teachers about that: your instrument and your own musical ear give you the best answers.
You live in Holland for many years now but you have not forgotten your roots. Please tell us about your activities in Bulgaria.

Thank you for asking me this question, as this is always a very emotional and exciting topic for me: Living for many years in the Netherlands - a country where modern art and music are so well developed - I had the opportunity to meet wonderful musicians and artists. It is really great to be able to build a life that allows me to work as a professional musician, travel and perform the music I love. And I find it now very important to bring a piece of that experience back to Bulgaria, pass it on to colleagues and students.
For the past few years I have been regularly invited to perform at the two major festivals: March Music Days and Varna Summer Festival. The last year (2007) was also very special to me, being invited as an "artist in residence" in the famous international festival Sofia Music Weeks. With all these institutions I have established a very intensive collaboration that led us to exchange projects and the visit of leading performers, ensembles and pedagogues renown world-wide. This all has become possible with the kind support of different foundations, sponsors, and organizations from the Netherlands, Germany and Mexico.
I am also very, very happy that more and more events around the percussion and marimba are taking place in Bulgaria. In my opinion one of the most influential and interesting event is becoming the International Percussion Competition PENDIM (www.pendim.com), which will have its 6th edition in 2009. The organizer (and percussion teacher) Pentcho Pentchev, together with the great assistance of another excellent Bulgarian percussionist, Alexander Kamenarov, managed to attract the attention, enthusiasm and support of performers and teachers such as Peter Sadlo, Katarzyna Mycka, Li Biao and more.
In the 2007 edition of the competition next to serving as a jury member I was also invited as a special guest and representative of the Concorde Marimba's and Pustjens Percussion Products - PPP company (www.pustjenspercussion.nl) from Amsterdam, Holland: they provided a truck full with instruments and in this way the competition really had an excellent base for its more than 60 participants. For my part I was really happy that this arrangement worked out so well, as you can imagine the amount of organization and costs behind such a project.
I would not hide that every one of my visits to Bulgaria becomes a highly emotional and unforgettable experience. It is hard and challenging work, but worth the "trouble", as more and more young percussionists from Bulgaria are making a great progress, win international prizes and have successful appearances on the world podiums.
Personally - I would like to share my extreme happiness and gratitude to the Bulgarian audience: thanks to its votes and nominations, just a few weeks ago I was awarded the Prize of the Musician of the Year for "all-round musical activities and significant contribution to European integration of Bulgarian culture" by the National Radio of Bulgaria and the program Allegro Vivace.

Thank you very much for the interview and all the best wishes!





Besucher: